INLAND SURFER'S BLACK WAKESURF VEST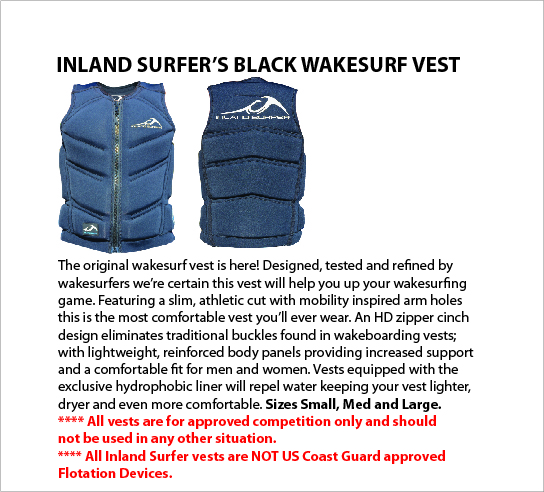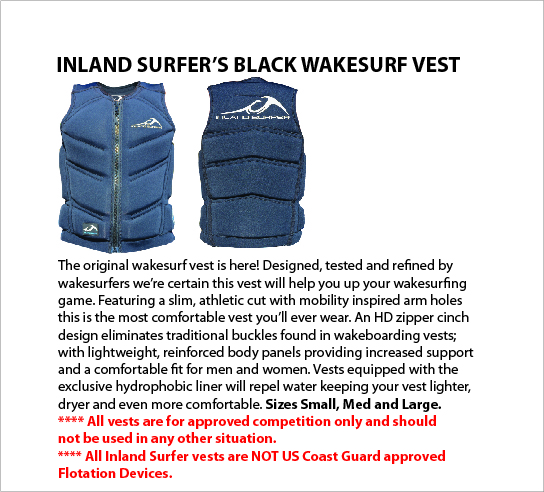 INLAND SURFER'S BLACK WAKESURF VEST
INLAND SURFER'S BLACK WAKESURF VEST / Accessories shown, sold separately
Inland Surfer's Black Wakesurf Vest has been designed, tested and refined by wakesurfers, we're certain this vest will help you up your wakesurfing game. Featuring a slim, athletic cut with mobility inspired arm holes this is the most comfortable vest you'll ever wear. An HD zipper cinch design eliminates traditional buckles found in wakeboarding vests; with lightweight, reinforced body panels providing increased support and a comfortable fit for men and women. Vests equipped with the exclusive Hydrophobic Liner will repel water keeping your vest lighter,
dryer and even more comfortable. Sizes ( Small, Sold Out ), Med and Large.
**** All vests are for approved competition only and should not be used in any other situation.
**** All Inland Surfer vests are NOT US Coast Guard approved Flotation Devices.
CONTACT INLAND SURFER at info@inlandsurfer.com